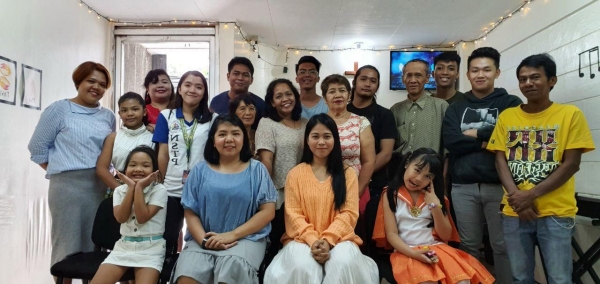 On February 9th, Manila members meditated the "The Parable of the Sowing Seed" taken from the book of Matthew 13:3-9.
It was exhorted " We shall evaluate our hearts to whom do we dedicate our love? We give efforts to the one we love but when we talk about God, did we give efforts to know Him more?'
The 3 new attendees of Manila Immanuel Church are Brother Dion, Brother Vincent, and Brother Jimmy. Brother Dion and Brother Vincent are graduating students at National University (NU). They were interested in 'learning guitar' and by the grace of God through the outreach program of Manila Immanuel Church they were invited to come and attend the service. Meanwhile, Brother Jimmy is a first-year college student at Polytechnic University of the Philippines. He came for the piano class and by the grace of God, he attends the Sunday service together with the other new attendees.
After the sermon, the 3 new attendees shared;
Brother Dion, " I didn't know more about God. I only know Him for His name. But now, attending this service made me realize something more. I was just accompanying my friend, Vincent, because he wants me to come with Him. And I am thankful for this. From the passage, I realized that love is something you exerted with effort and commitment. When we have faith in God, we should take an effort to know Him and when we know we should be committed to Him only. "
Brother Vincent, " Actually, I really didn't know that there is a Sunday service here. But I am thankful to hear the message. In the passage, it talks about the seeds and four kinds of soil. It is not easy to change because like me I know my life is very complicated. But to be a good soil we must receive and accept the Words of God."
Brother Jimmy, " In the passage, it tells us that we should have a commitment to God and we should be filled with the Holy Words of God."
Please pray for the 3 new attendees that they may seek God's love more than anything else and may they will attend the next services so that they may filled by the Word of God.