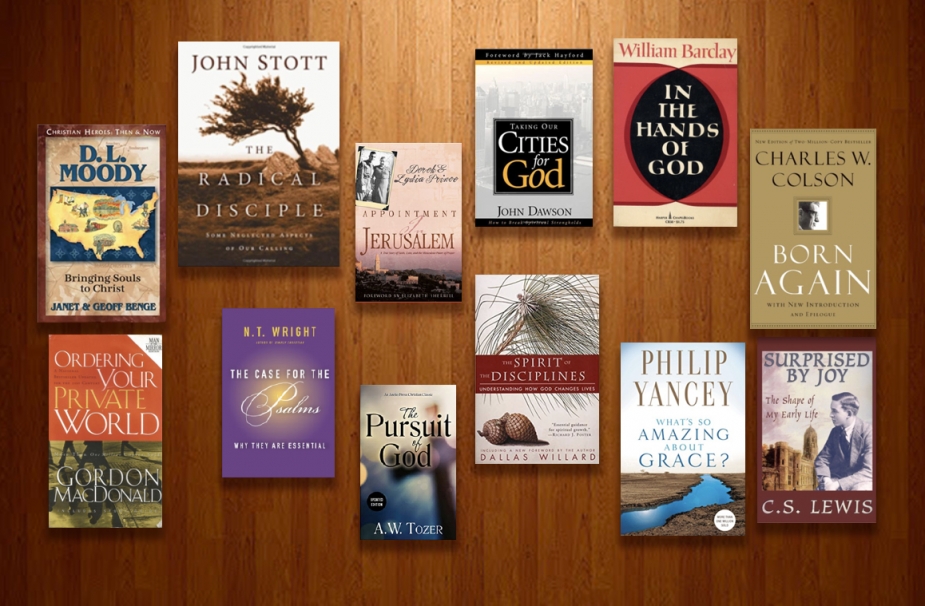 The Olivet Assembly of Southeast Asia has compiled a list of several recommended books for those who have the time and desire to read and who wish to receive spiritual strength and encouragement that will allow them to go deeper into the Word of God.
The books are not theological books for studies, but rather stories of faith and grace to encourage any Christian. These books have been read and handpicked as in the past they have given inspiration and strength to the readers. This list of these 12 books has no aim to be conclusive and there are multiple other great titles and authors to be recommended for reading.
1. The Radical Disciple by John Stott: In this book by a leading evangelical churchman of the 20th century, John Stott opens up what it means to be a follower of Jesus. It does not merely mean to follow an agenda but to allow the Lord to be Lord over one's life.
2. Appointment in Jerusalem by Derek Prince: This a true story of a young schoolteacher and her courageous quest to know God's will in her life. In the search for God and her purpose in life, she is guided to Jerusalem, where she learns the power of prayer and experiences numerous miracles of provision and the Lord's protection.
3. Born Again by Chuck Colson: In 1974 Charles W. Colson served seven months in prison after pleading guilty to the Watergate offenses. In the midst of that, he finds himself searching for meaning and purpose and penned Born Again. Paradoxically, he found success and power in prison. Born Again has brought hope and encouragement to millions of readers for over 3 decades.
4. The Spirit of Disciplines by Dallas Willard: Dallas Willard, author of The Divine Conspiracy (Christianity Today's 1999 Book of the Year), presents a way for Christians to experience fruitfulness in their ordinary lives through spiritual disciplines, thus, he reveals that this is for self-transformation. This book is highly recommended for those who wish to strive to be the Lord's disciple in action, thought, and intention.
5. What's so Amazing about Grace? by Philip Yencey: Grace is the uniqueness of church. After having lost his daughter in 1987 from an IRA bomb that buried him and his twenty-year-old daughter beneath five feet of rubble, Gordon survived and forgave the bombers. He said, "I have lost my daughter, but I bear no grudge. . . . I shall pray, tonight and every night, that God will forgive them." He could do this through grace and it is something the world reveals with their own strength.
6. Taking our cities for God by John Dawson: Great book outlining strategic methods for impacting cities with the Gospel. You are in the middle of an invisible spiritual war. Explore strategies for faith and prayer that can win the battle. Explore the dynamics and life-changing strategies to help you tear down the strongholds that have held your community back from its full spiritual potential
7. The Case for Psalms by N.T. Wright: The author of this book proclaims the power of the Psalms, which were at one point in the center of prayer life. He persuades the reading into understanding that through the Psalms, they can enter communion with God and a higher level of intimacy. Therefore, all Christians live the Psalms by reading, praying, and singing them.
8. In the Hands of God by William Barclay: Short stories of thoughts of the author about his life and experience.
9. The Pursuit of God by A.W. Tozer: In this book, the author states the paradox of finding God and to still pursue Him in a four-line musical poem that is to be understood by the worshiping souls.
10. Ordering Your Private World by Gordon McDonald: Today's era is full of business and discovering inner peace is very difficult. MacDonald gives helpful advice through 5 specific areas in order for the readers to fight against disorder and gain personal growth and spiritual development.
11. D.L.Moody Bringing Souls to Christ by Janet and Geoff Benge: Dwight Lyman Moody at the age of 17-years old moved to Boston in pursuit of becoming a successful businessman, but in the midst of that, God had other plans for his life. Instead, be became an evangelist, proclaiming the gospel and serving those who are poor and his fellow workers in the Lord. He was a man with great vision who led and served men of the Civil War outreach. He also served as a Sunday school teacher and church minister and led revival campaigns in America and other parts of the world. He was a man of great passion for bringing numerous souls to the Lord and continues to impact Christians today through education and ministry.
12. Surprised by Joy: The Shape of My Early Life by C.S.Lewis: C.S. Lewis tells of his spiritual journey in a search for joy which led him from the Christianity of his youth into atheism and back to Christianity.