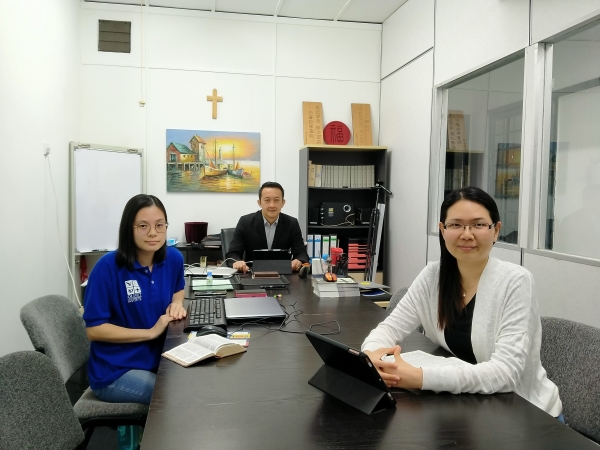 By the power of the Holy Spirit, on 25th July, Immanuel community church Kuala Lumpur concluded the online Olivet Leadership Institute (OLI) Training gracefully.
Pastor James shared. "The book of changing life, Romans, truly comforted every member's heart and guide to deeper knowing our sinful nature. Jesus Christ is the only way, the truth and the life, without him we are nothing and meaningless in our life. we are grateful for his love and mercy on us, may all members keep moving forward and pray for each other.
Leader Josephine shared, "when I understood more about the salvation and the wages of sin which I totally could not bear it on my own, I received a lot of comfort and touches. This love has been given to me when I do not understand. After listening to the testimony of the leaders and members, I understand that God is really precious and patiently builds everyone's faith."
"The grace and touch of God is so real and non-stop. His cultivation and leadership are in every one of us and also myself. I am looking forward to everyone experiencing more God's guidance and miracle and together we support each other to build the kingdom of God. Pray the great grace and touch are well kept in my heart and share it out more."
lastly, Leader Dorcas reflected that "through listening to missionaries and members sharing and testimonies, I gain a lot of strengths. There are stories of how they apply the Word into life and show me the way how I should also follow their examples. I hope to pray more for them as we are one. The sharing time unites us tightly. Even though we cannot meet face to face, but we are one in Spirit."
In response to the closing service message, "even though the standard of being a disciple is high, but thinking about Jesus, He first left heaven and came to save us. He has everything but become nothing. When I think about what He has done for me, I think about this love and grace that ai have received, yes, Lord, I am willing to follow you, no turning back. Amen."
Truly thanks to God for the three days online OLI, members have been filled with the love and grace of God, and may everyone can keep the grace in their hearts deeply.